Get in the Holiday Spirit with Moon Glow Lightscapes!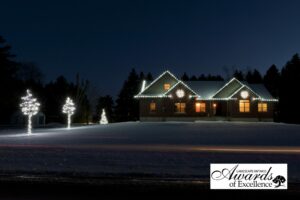 It goes without saying that 2020 was a unique year.  At Moon Glow, we witnessed incredible growth in our holiday lighting business.  There is always a reasonable amount of growth year over year on account of improved brand visibility, but this season we witnessed something special.  People were craving something.  They were looking for a sign, a symbol.  It was light that they sought out.  Light was a symbol of hope, joy, and progress.  And so many folks found warmth in adding professionally designed & installed holiday lighting to their home or business.  Not only did these new displays provide happiness to those residing or working at that property; the positivity spread to family, friends, neighbours and general passers-by.  It is with great humility that we were reminded by clients and those inquiring for our services that we were bringing something special to their area for the holidays.  The work our staff performs is fun and satisfying, but was given new and enhanced meaning in 2020.
In 2021 we look forward to uplifting spirits again through the love of light!