Deck lighting to liven up your outdoor entertaining
Deck lighting with our LED deck lights paints your outdoor living space with soft light so you can linger on your deck, entertaining or relaxing into the evening. Illuminating your outdoor living or dining areas will let you take advantage of your landscaping investments and encourage you to enjoy your back patio well after sundown. Guide your guests down to your yard past the deck step lights and enjoy a drink under the starry sky.
Impress your neighbours and guests
Diffuse a subtle radiance over the space where you host gatherings
Illuminate your outdoor dining table with patio lights for late meals
Enjoy a lit up outdoor living space under a dark sky
Showcase the beautiful backyard that you have invested in with LED deck lights
Look out upon your deck and appreciate it from within your home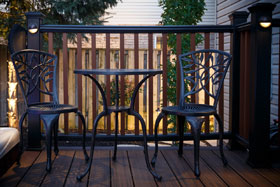 Spend some warm nights in the open air. You can create an enchanting atmosphere in your personal outdoor oasis, extending its nighttime use for many months of the year. Fixtures can be hidden in surrounding trees or concealed by your structures, or installed out in the open to add to the design theme of your living space.
Our custom design and installations are stunning. We can create an intimate and protected atmosphere or an open and inviting feel. The consultation process with our experts will help us understand and create your vision.
Design your custom landscape lighting system
When you work with Moon Glow to create your custom lighting system, from deck lighting to garden lighting and beyond, you are sure to achieve the effect that you want while improving the functionality of your property too. Our discrete fixtures are unobtrusive and let the magnificence of your landscaping speak for itself.
We provide fully programmable high quality fixtures and transformers for your exterior deck lights and more, and complete the programming for you. Your low maintenance system is comprised of durable and resilient hardware, backed by substantial warranties.