The holidays are nearly here — are you ready to decorate your house? Most homeowners will use last year's decorations to cut costs, but they could actually save more by upgrading to energy efficient LED lighting.
Energy Efficient Lights Cost the Same Upfront
The most common complaint about LED holiday lights is that they cost too much to begin with, but it's simply not true. This misconception is most likely caused by the large price disparity between LED and incandescent lamp bulbs, but Brian Lam of Gizmodo points out that incandescent and LED holiday lights both cost about $1 per seven bulbs.
Even if you don't want to replace all of your holiday lights this year, you can replace broken strings with LED models without spending any extra money.
LEDs Last Longer
Don't you hate switching out broken holiday lights? Most people end up salvaging an entire string for spare bulbs, and you're probably used to purchasing new lights every few years. You won't run into this issue with LED holiday lights because they won't stop working after a year or two.
Incandescent bulbs typically last about 1,000 hours. Some burn out before then, and some last longer. If you keep your holiday lights up for two months and run them for six hours a day, they'll last about three years, which isn't bad. However, LED holiday lights should last for at least 50,000 hours. If you run them 24/7 every single day of the year, they'll still last about six years. At six hours a day for two months, LEDs will last 140 years. Think about the hundreds of dollars you'll save by not replacing your lights on a regular basis.
Energy Savings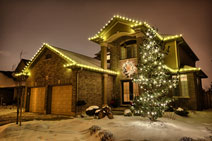 When it comes to energy efficiency, there's no comparison. LEDs use far less electricity to produce the same amount of light because they don't generate much heat. Incandescent bulbs waste tons of electricity through heat, which is why LEDs use about 80 percent less electricity than incandescent holiday lights.
A basic 100-count string of incandescent bulbs uses about 40 watts of power, and a 100-count LED equivalent uses about 7 watts. Let's assume that you use 50 strings for 360 hours each year. If your electricity costs 15 cents per kWh, the incandescent bulbs will cost you $108 in electricity each year, and the LEDs will cost you less than $20.
At current electricity rates, you'll save $1,782 over 20 years. You'll also save an additional $4,761 in light replacements over the same time period. That's a serious amount of money you could put into a retirement account, new vehicle, or home renovation.
Cooler, Color Changing Bulbs
It's not all about money. Many people prefer LEDs because they're so versatile. Most LED bulbs can be dimmed, and they can change colors. Whether you want icicle lights to glitter realistically or your Christmas tree to sparkle, LEDs are the way to go.
As previously mentioned, LEDs generate less heat, which makes them less of a fire hazard. They're more durable, and because they use less electricity, they're unlikely to cause sparks and short out.
Christmas trees will dry out after a month or two, and the dry needles can catch fire in a heartbeat. LEDs can be left on safely 24/7 without posing any risk at all, which is something you should never attempt with incandescent lights.
If you want to free up your time (and the storage space where you usually keep your tangled lights) and outsource all of your holiday lighting needs this year, contact us for a free quote.