If you're looking for someone who takes pride in his work, look no further than Scott Sim of Moon Glow Lightscapes.  He's been in the lighting industry for over 13 years, the past 4 plus with Moon Glow.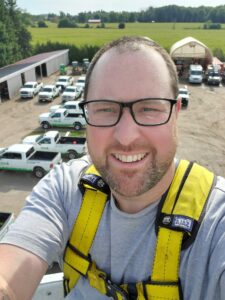 There is no typical day in the life of a landscape lighting designer.  Scott has his hands in all areas of the company – from social media to ordering and checking product, to loading his truck, from job sites to do measurements, set ups or maintenance, then it's on to meetings, designing and quoting.  He's never bound to one place for very long, unless he's working on a job site, and even then he's dealing with calls, emails and messages from suppliers/customers/co-workers.
Evenings are an exciting time in the life of a landscape lighting designer as this is when nighttime light ups take place.  This is when plans become reality and the client gets their first view of your hard work.  All light ups are special in their own right, but the stuff that stands out are hugs (pre-covid), crying and a combo of those 2.  Those are the kinds of reactions Scott's looking for, along with oohs and aahs of course.  "With what we do, there has to be a WOW, getting a wow is priority #1."
Scott loves working from designs and working with creative people; seeing what they create and what their process is.  He looks at their design and thinks "What can I do to enhance it, not take away from it?"  He loves seeing a project come to fruition.  This past year Scott had the opportunity to work on a two story deck project.  "The design experience was phenomenal; really unique stuff; the underdeck is all done in twinkling pendant lights.  It was a really cool way to make it truly an outdoor room.  There were lots of factors involved – uplighting for trees that gives ambience to the viewer on the deck, functionality of the space and ambience on the deck.  It's all connected."  The space has been prominently featured in a lighting suppliers new catalogue.
To Scott, the best challenges offer the most gratifying results. He's shown up on sites and thought "this isn't going to be easy, but man it's going to be awesome."
Scott's main influencers are Raymond Josephine and John Higo.  Raymond & he would spend a couple days a week doing client visits (while Scott worked as a territory sales manager selling lighting materials to contractors); from this he learned so much.  The memory that stands out most is being in the house of a customer, in their bathroom, standing in their bathtub taking photos to see everything right from the clients vantage point.  John has provided him with all kinds of design ideas, install tips, everything all encompassing.  The guy that pushed him forward at Turf Care (and beyond) was Bob Golden; as a sales manager, he was not a micro-manager but always available, full of good knowledge, tidbits and life stories.  They're still in touch and Bob is easily his biggest mentor in business and his career.
We couldn't be happier to have Scott as the face of the Moon Glow team, and we're excited to see what lighting designs are in his future.
This past summer, I spent a lot of time working alongside Scott. I started with no knowledge or confidence about landscape lighting and within a short amount of time learning from Scott, I felt my confidence grow and I was able to put forth the quality of work to his standards whether he was on site or not. Scott saw my potential before I was able to, he does that with his work as well…that's who he is as a person. His true passion and investment he puts into his work to make every job unique and best suited for the customer, shows not only when the project is done, but throughout the whole process from start to finish. He looks at every job he does as if it were his own property. I look up to how excited he gets to continuously learn new things and share it with others, as well as the positive energy he brings to the work place. Thanks for all you've taught me Scott, and for the awesome tunes you play to and from sites!
Taylor Korevaar
Fun facts:
What fictional character do you identify the most with? Why them?
Liam Neeson's character in Taken
If you could go to any country (that you haven't been to) where would you go and why?
Talents you possess no one knows about?
Pretty handy guy, not sure how hidden it is
Does a really good impression of Troy McClure
Favourite movie quote?
It's not show friends, it's show business (Jerry Maguire)
What book are you reading now?
Parental advisory – memoir on the birth of NWA and gangster rap
Favourite place to stream – what show?
Netflix
Designated Survivor
Favourite junk food?
Ketchup chips – never met a bag of ketchup chips he didn't like