Warm summer evenings and longer days beg for more time spent outside, and what better way to make the most of the season than to enjoy drinks, dinner and parties out on the backyard patio? There are many ways to extend the functionality of your outdoor living space in order to make the area more inviting for friends and family to use, and many are easy to complete and inexpensive to finish. Here are a handful of ideas that not only make it more comfortable and easier to enjoy the backyard, but also make it more attractive. Pick and choose between elements to build your ideal outdoor space.
Furniture
The first step to creating an outdoor living environment is setting up a cozy area to relax, enjoy a beverage and talk about the weather. Patio furniture comes in a nearly limitless selection of styles, colours and designs, so there's something for every taste and backyard. Wicker furniture is particularly popular, as it's durable and lightweight, but wood, cast iron, wrought iron, cast aluminum and plastic furniture are also available. Start with a simple table and chairs so friends can enjoy a bite to eat together. If there is space, adding lounge chairs for sunning or napping is certainly appreciated. Don't forget about hammocks, pillows and sunshades; these items create an especially welcoming, and varied, space.
Lighting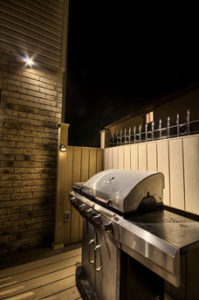 Illuminating your outdoor space does more than make the area visible and functional after the sun goes down, it also adds a warm and inviting ambience both to the area as a whole and certain highlighted parts of the yard. Outdoor lighting is essential in every area that sees use. Add overhead lighting with LED bulbs where guests will dine. Install solar pathway lights along walkways for safety and highlight garden features with spotlights. Finally, make sure to include brighter task lighting where important activities like cooking, playing games or entering goes down. While soft lighting works best where people are relaxing, direct, bright lights are necessary over the barbecue and wherever there's a hazard.
Dining
Move meals out of doors by setting up a small outdoor kitchen and dining area on a patio or under a pavilion. A large all-weather table surrounded by comfortable chairs, pillows and fresh air is the best way to enjoy a casual dinner with friends and family throughout the summer. Make sure to invest in a quality barbecue or grill, either charcoal or gas, and equip the area with all the necessary tools for cooking under the stars like tongs, a meat thermometer and excellent lighting. Another way to cook food is over a fire pit, which also doubles as a gathering area to tell stories and connect. Keep bugs away by using lighting all over the yard, ensuring the insects aren't focused on one source of heat.
Sports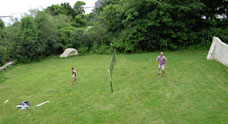 Summer isn't all about relaxing; it's also an opportunity to enjoy activities outside. Popular yard games include croquet, Frisbee, bocce ball and toss games. Set up a play area or a few play areas to keep both parents and kids busy. When the sun goes down, make sure to set up lights around the yard so the games don't have to stop just because it gets dark. Lanterns, pathway lights and spotlights all work well for this purpose. Remember, using lots of lights spread out over the yard helps keep bug swarms to a minimum while also making the yard safe for activity.
Summer means more time spent outdoors, thankfully. But summer also means it's time to spruce up the yard and patio so others want to hang out there. Adding comfortable furniture, welcoming and functional lighting, a grill and a play area instantly transforms a typical lawn into an outdoor living space everyone will enjoy.
Give us a call today to see the difference our lighting designs can make to your property.
Badminton photo credit to Patrick