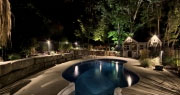 In Guelph, Ontario, lives a man who loves to entertain long into the night around the soft, ambient landscape lighting of his pool. But he didn't always have such a gorgeous spot for spoiling his guests. Before Moon Glow Lighting enhanced the space with luxurious lighting, the spot was dark and gloomy—better suited to a mystery novel or a spot for gargoyles to rest.
Lightscaping pools require a special expertise. Water can reflect the lighting in ways that reduces the ambiance of the space, and if the lighting company lights the water harshly from underneath, the client can end up with a pool that is far too public for private swimming.
The approach Moon Glow Lighting took to the landscape lighting design project was built around three principles: 1) The space must have an ambiance that is as inviting for large group gatherings as it is for intimate groups;
2) The lighting must illuminate the boundaries of the space and the pool in ways that hightlights safety without interfering with the ambiance; and
3) The lighting must accentuate the natural beauty of the water and the greenery.
"What was important was that we create a lighting design that was as unobtrusive as possible," says Mike, a member of the team that worked on the project. "The client didn't want posts, spotlights that cast sharp edges and long shadows or lighting that distorted the colour palette."
To make this happen, Moon Glow's landscape lighting design worked with the natural forms of the pool and greenery to create a lightscape that opened up the space and brought out the natural colours and shapes—and did all this without creating the feel of unnatural lighting.
"That was the major challenge and the major success of this project—to make artificial lighting seem like natural lighting," says Mike. "And we did it."
If you have an outdoor lighting shortage in Guelph, landscape lighting design from Moon Glow can help complete your outdoor space.
Contact us today to discuss your project.