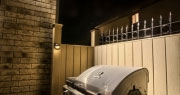 With carefully placed landscape lighting at this London, Ontario home, Moon Glow Lightscapes created a space where the barbecue is a part of the backyard, and not an appliance relegated to the corner.
It's a problem most homeowners have encountered: How to keep the back deck looking attractive, clean and well-lit when the barbecue is giving off smoke and getting old? The impulse of some design firms is to hide the old barbecue under a tarp, in the garage or in the shadows. Moon Glow Lightscapes took a different approach for this barbecue-happy family. They used lighting to bring the barbecue corner out of the shadows and into the main area of the deck.
"Shadows are an important part of a lighting design. We like shadows," says Mike, a member of the team that worked on the project. "But the problem occurs when people use shadows to hide something they don't want to see. When they do that, they end up drawing attention to what they're trying to hide." The family also loves their barbecue, and that was an important part of the design decision-making. "The family uses the barbecue all the time, and so we don't want to ignore something that's obviously so important to them."
At the London house, we used a set of warm, discreet, carefully placed outdoor LED spotlights to light the corner and show off the geometries of the high-end barbecue. And by coordinating the lighting of the barbecue corner with the light design on the rest of the deck and the front of the house, the entire exterior of the house has a uniform neatness. The space feels clean and rich.
Since installing the lights, the homeowners say they are ecstatic with the way the lighting creates space on their deck. "It actually feels like we have a larger deck when we turn on all the lights," says the homeowner. "For some reason, having that dark spot where the barbecue is used to make the space seem claustrophobic. It's amazing what a little deck light can do."
For garden lighting solutions that can transform your garden, contact us for a consultation today.