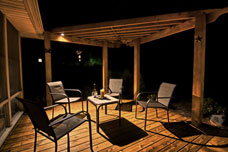 The challenge at this Kitchener home was to create landscape lighting that brought people together without spoiling the mood. The result, after much experimentation and consultation with the client, was a lighting design that makes an outdoor space feel like an indoor space.
"The client had a great looking deck with a half-ceiling—perfect for sitting out and enjoying the night air," says Mike, a member of the team that worked on the project. "What the space needed was lighting to make it something they could use 24/7."
We considered a variety of solutions. One included placing a set of LED lights at the corners of the "room" to provide maximum of light. While attractive, the light overwhelmed the setting. The solution was to post a single spotlight at the vertex where the beams of the open ceiling met. The result is a sense of the light "fanning out" with the lines of the open ceiling.
A lack of lighting in the backyard was not an issue because so much light comes from the house. The single light on the ceiling of the open ceiling "closes" off the space without light spilling into the shadows of the dark lawn.
"It's a cozy space, especially when we put candles out," says Dr. Jim, owner of the house. "I like that the deck feels like a room. It's nice to look out from the deck into the night."
Jim said he enjoyed working with Moon Glow Lightscapes because he was initially nervous about how to approach the idea. "I didn't want to ruin the deck with too many lights. I wanted a simple solution. That's what I got with Moon Glow," he says.
Since the installation of the exterior deck lighting solution, Jim and his family have hosted one dinner party.
"The gazebo lighting is exactly what we needed. It's bright enough without being too bright and also stylish in a way. We spend a lot more time on the deck since we put the lights in than we ever did before. I wish I had the lights put in sooner."
To discuss your Kitchener landscape lighting project, contact our experts today.