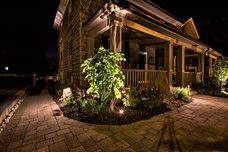 It's lovely spending a long weekend evening watching the moon and stargazing but as beautiful as these cosmic lights are, they're not bright enough to provide enough light for entertaining groups big and small in the backyard. To make the most of an exterior space, outdoor lights are essential. Fortunately, there are many different styles of outdoor lighting that can add a warm glowing ambience, clear direct spotlight or subtle highlight to various areas of the yard when you're entertaining Canada Day weekend. These lights allow homeowners the chance to enjoy extended gatherings with friends and family in luxurious surroundings regardless the time of day. Here are just a few ideas of how to add beauty and functionality to a garden or patio this long weekend with outdoor lighting.
Solar Lights
One of the most versatile and eco-friendly options for lighting an outdoor space is solar lighting. Easy and attractive, solar lights come in a variety of different forms, including minimalist pathway lights, vintage lanterns and direct spotlights. Most solar lights provide a warm glow that adds a welcoming ambience to get-togethers – exactly what you want for wine and cheese as fireworks light up the sky. Spotlights, floodlights and motion detectors, on the other hand, serve well for safety and security reasons. A clear view of the sky is necessary wherever the lights are installed, so if there are many overhead trees or buildings, it may not be possible to use them or they may not charge enough during a regular day to last late into the night.
String Lights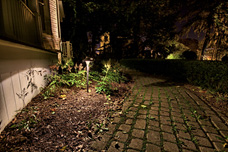 Outdoor lighting is as much about decoration as it is visibility, and string lights definitely add a stylish touch to any patio. String lights are easy to hang in a variety of locations, including on gazebos, in trees and around fences. Soft yellow or white colours are the most popular choices, but they come in an unlimited array of shades, making them particularly suitable for a holiday event or special occasion with a theme – perhaps red and white this weekend. Another benefit of string lights is that they can stretch as long as you want them to. Extensions are easily added to suit any surface. They are more labour intensive than more permanent light fixtures and chances are you won't leave them up after the weekend is through. But you could! More designers today are using these "twinkle lights" as regular additions to smartly designed and regularly used outdoor spaces.
Task Lighting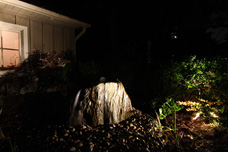 While lights should always add beauty to a space, many must also serve more functional purposes. Task lighting in areas where people congregate is essential not only for safety reasons, but also to ensure that friends and family can converse, drink, dine and move around with ease. Task lighting should never be so bright that it causes discomfort or breaks the mood of the festivities, but it should provide enough illumination to make activities comfortable. Areas that call for task lighting include pathways, cooking areas like the barbecue, dining areas and entrances/exits. Make sure all your bulbs are working before guests arrive this long weekend and showcase your property at its best.
Garden Lighting
It's easy to behold the beauty of a well-kept garden during the day, but at night all the unique details and features may disappear in the darkness. Using garden lighting to highlight the various floral elements in the garden is an art form that can instantly improve the look and feel of an outdoor space. Pathway lights on stakes at knee-height work well to illuminate stone walkways that may otherwise go unappreciated. Solar lights disguised as rocks can brighten bushes and shrubs, and swinging lanterns featuring candles or flameless battery-operated lights help outline the border of a yard elegantly.
Adding outdoor lighting serves two important purposes: function and aesthetics. To celebrate our beautiful country, most people like to move their evening activities to the backyard, where they can better appreciate the cool summer breeze and colourful fireworks. But in order to make the most of this location, a few well-placed lighting elements are necessary to fully capture the mood and beauty desired of outdoor entertaining.
Contact us today to get your outdoor space properly lit and celebrate Canada Day in style.