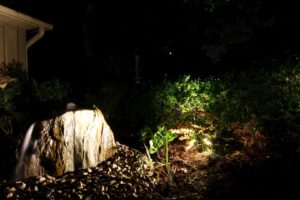 Landscape lighting is really the icing on the cake when it comes to having a gorgeous landscape that looks finished and provides maximum outdoor enjoyment for homeowners. It is critical to maintaining safety on patios and along walkways, as well as highlighting features such as accent plants, raised beds, and water features.
But what's the best way to do it? And where to look for fixtures that won't require annual replacement?
Without Investing in Quality, You Will Have to Redo Your Work Every Year
You want to sit back and enjoy your sparkling landscape, not labour in it, right?
While the do-it-yourself kits at home improvement warehouses may seem like a good deal for the frugal homeowner, the fixtures are often shoddily manufactured and won't have the quality and durability that a professional system will provide.
They frequently require regular, possibly even annual, replacement of cheaply made fixtures and parts such as timers and transformers, creating additional costs and labor when one wants to enjoy the landscape instead of constantly maintaining it.
A professional landscape contractor will provide a comprehensive warranty to ensure against defective parts and premature wear and can also quickly troubleshoot the system whenever there is a problem. Even better- on your average professionally installed LED system, you won't even have to change a bulb (they might only burn out every 10 years).
The Downfalls of Box Store Equipment
As with anything, design and installation by someone that knows what they're doing costs money.
Homeowners looking for landscape lighting solutions might be tempted to spend time and save money by purchasing a ready-made kit from a big box store, but they're risking doing a lot of work for substandard results. These kits are usually not easily customizable or expandable, so having to install multiple kits becomes a distinct possibility, increasing the likelihood of installation issues and future problems.
Professional Design
The primary key to beautiful landscape lighting is the design. A professional contractor will have the design experience to know exactly what types of lighting to use in different areas of the garden landscape to get just the right effect and highlight distinctive features in the yard. A professional will know how to place fixtures to avoid creating annoying glare or strange shadows that produce creepy effects. This is one area where planning with a professional will really pay off.
This field is about the result fixtures create, and unlike regular garden design- the final result is not just about where something is placed. Working with a specialized contractor will give noticeably better results than working with a generalized one. This is because they're used to creating designs based on effect, and not just on placement.
Professional Installation
Another crucial aspect to having a gorgeous end result is installation. Landscape lighting installation can be extremely complicated and time consuming for the non-expert. Frequently kits end up being returned to garden centers after unsuccessful attempts at DIY installations. Calculating the proper voltage based on cable length and number of lights installed on a specific line alone can be difficult at best and disastrous at worst for the amateur installer.
An experienced, professional landscape lighting contractor will do all the work the right way the first time, including hiding cabling throughout the yard, correctly splicing fixtures into the wiring, properly installing halogen bulbs to ensure maximum life span, and adjusting brightness so that each fixture produces the desired effect.
A pro will also program the system to make sure that the lights come on at the right time for the geographic location and seasonal variance in daylight hours.
Expert Results
By spending a bit more up front instead of over time, homeowners can give their average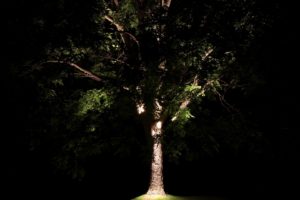 landscape a real wow factor with professionally designed and installed lighting. For those who will be content with mediocre results and aren't concerned with potentially having frequent problems and making future expenditures, a cheap, standard do-it-yourself kit might be the answer. Unfortunately, they will likely never realize the full potential of their outdoor living space and the comfort, safety, and satisfaction a magnificently lit landscape can provide.