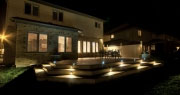 In Woodstock, Ontario, Moon Glow used artful landscape lighting in the kickplates on the steps of this deck to create a safe transition from the deck to the yard.
The pair of doctors who own the home wanted to make the most of the backyard space, especially for those warm summer nights when sitting on the deck is made better with mood lighting. The challenge from a design standpoint was to improve the visibility of the three steps without spoiling the mood. So how did Moon Glow Lightscapes improve the safety quotient of the space without marring the beauty of the night? By weaving the lighting into the design of the deck.
"What we did was treat the lighting as an element in the design of the deck, not as something you throw on top of the already established design," says Dave, a member of the team that worked on the project. "That's where so many other companies get lighting wrong—they treat light as an add-on, not as an integral part of the design itself."
The final design of the lightscaping on the deck features a set of neatly orchestrated kick plate lights that illuminate the stairs (for safety) while distributing a soft, warm light (for aesthetics). The lighting works effectively in another way—it lights up the stairs, which have no railings, without unnecessarily drawing the eyes down to the ground. This lightscaping optimizes the balance in the overall design so guests can dwell in the warmly light space without feeling they are in a spotlight.
Finally, the ambiance, enhanced by the lightscaping, moves with the seasons. In the warmer months, the subtle lighting captures the mood of cozy summer nights and crisp autumn evenings. In the winter, the durable lighting adds charm to the cool hues of snow and ice so that, even if the deck can't be used as a dwelling space, it can still function as a well-lit and attractive space outside the window.
If you have outdoor lighting ambitions in Woodstock, landscape lighting from Moon Glow can give you what you want. Contact us today to discuss your project.