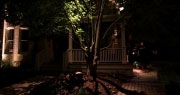 With down lighting placed sumptuously in this magnolia in Paris, Ontario, we created soft landscape lighting on the paths and steps to ensure safe travel and a beautiful walkway.
The challenge with any garden landscape is balancing the softness of nature with the angles of the human design, while at the same time creating a safe, visible pathway that doesn't interfere with the mood of the environment. The lighting needed to be muted but present, warm without being hot.
Moon Glow Lightscapes lit this natural space in Paris with several discreetly placed spotlights. The angle of the lighting illuminates the vivid emerald of the magnolia tree. And even though this lighting draws the eyes upwards, downward pointing lights keep the path lit and safe.
This project demonstrates how lighting can create centerpieces in a garden. During the day, this natural space is wide open and beautifully lit by the sun and coolly shaded by the magnolia tree. At night, the lights pull the magnolia tree to the centre of the environment and give the space a sense of coziness and comfort.
As with every Moon Glow Lightscapes project, the project team took care to ensure that the lighting is covertly placed into the landscape. Where other companies draw attention to their light fixtures, Moon Glow Lightscapes placed the spotlights into the environment discreetly so that, during the day, the hardware of the lighting is unobtrusive and doesn't take away from the natural beauty of the space.
"We didn't know what we wanted exactly but we knew it had to be beautiful and affordable," says Pamela, the client who commissioned the work. "What we received was perfect for the space. We've had many people compliment us on the work. What I like most is that the lighting seems so natural, like it was always supposed to be the way it is."
If you have a project in the works in Paris, landscape lighting from Moon Glow can give you what you want. Contact us today to discuss your lighting needs.