Adding outdoor lights to a patio, backyard or other type of outdoor living space is a great way to increase the functionality of the area while also improving the aesthetics. Incorporating a gentle warm glow will make any space feel relaxing and inviting, but lights do so much more than add ambience. Installing a combination of lighting systems in your yard will aid visibility, deter intruders and make guests feel safe. Here are a few of the ways you can increase safety and security in your backyard by using outdoor lights.
1. Spotlight Hazards
No matter how flat the landscape, there are always a few hazards for people walking around. Curbs, steps, hills, raised flowerbeds and trees are just a few of the possible obstructions found in a yard that could easily injure someone if they're not aware of these obstructions. Adding spotlights to areas that present risks is essential for anyone planning to have guests on his or her property at night, whether entertaining or just walking around (Halloween!).
2. Deter Intruders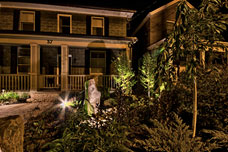 Bright lights that focus on the street, alleyways, the side of the house and all entrances and exits don't just make your house look bright and cheery from the outside; they also make the house look like an unreasonable risk for burglars, who will likely look elsewhere for an easier target. Motion detecting lights are particularly good for deterring intruders, as they'll scare anyone lurking in the dark by suddenly popping on, as if someone manually turned the lights on them.
3. Illuminate Cooking Areas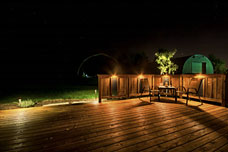 If you love hosting backyard parties or dining outside, cooking on the grill is probably a common occurrence. Coals, gas and fire add some light to the area but cooking by moonlight isn't always great. Install some specific task lighting to limit any risk of burns, fires or other issues. Handheld lanterns work well if the BBQ doesn't see much use, but if summertime means outdoor dining regularly, consider setting up a dedicated lighting system that illuminates the cooking area without flooding other sections with uncomfortably strong light.
4. Light Pathways
Walkways leading up to the house and around the garden outside should always be well lit. Anyone walking can easily trip or slip if it's rocky or wet. Solar pathway lights are easy to install and turn on automatically when the sun goes down without any effort on your part. Because they use the sun's energy to charge, they're eco-friendly. Additionally, pathway lights are appealing and they come in a variety of decorative styles that enhance the area both in safety and beauty.
5. Appear at Home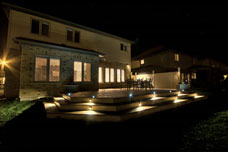 A darkened house is likely an empty house, and one burglars will recognize as a prime opportunity. While it can be wasteful to leave lights on inside the home to make it seem as if someone is there, solar lights and inexpensive outdoor lighting can be left on to dissuade uninvited guests from popping by without driving up your utility bill. Better yet, a motion detecting light will only turn on when someone pops by, scaring away would-be robbers but only using a bare minimum of energy.
There are many benefits to adding outdoor lighting to your home, but most important of them all is the increased safety and security to both you and the friends and family who visit. Safeguard yourself and loved ones from falls and your house from intruders by installing a few essential lights where they will do the most good, and sleep well at night knowing you're protected.
We can design an outdoor lighting system that is both beautiful and functional. Call us today for a consultation.